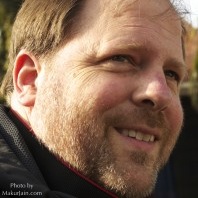 Personal Update 201507 | 31 July 2015 | Friday
Greetings,
I hope you're doing well. Thanks for taking a moment to read my latest update. This month from my Life Map I'll be covering Health, Career, Activism, and Effectiveness.
Health
My two biggest health highlights are the juicer I recently bought and my new bicycle trailer. The juicer is helping me to eat more fruits and veggies, along with wheat germ, flax seed, and more. The bike trailer is making it possible to ride my bike even when it's raining or when I need to haul something. So, it's increasing my exercise and activity through the week.
I had a couple of exciting visits to the hospital this past month — a regularly scheduled colonoscopy and two weeks before that, an unscheduled trip to the emergency room for a sharp abdominal pain. The story I wrote about the ER visit received many comments and thousands of people read it. So, that was fun.
Efficiency
The right technology can really make life more efficient. This past week I purchased an HP Officejet Pro 8630 e-All-in-One Printer, Scanner, Fax, Copier machine. It's been a while since I got excited about a new piece of equipment, but this is a truly amazing system. What I enjoy most is the seemingly instantaneous scanning capabilities. It takes about 3 seconds to scan a legal size page at a color resolution of 300 dpi. In the past I was reluctant to take on big scanning projects with scanners taking 10 seconds or more per page to scan. Now, I'm looking forward to clearing out many boxes and files of papers that I didn't quite want to part with, but have been taking up a lot of space. Professional HP systems come with ReadIRIS OCR software which reads text on pages and makes them into PDF files that are text searchable. So, later you can search through thousands of scanned pages for keywords, and find the scanned documents with those keywords on them. The paperless office promised in the 1980s is becoming more possible.
I've upgraded one of my computers to Windows 10 and so far I really like what I see. As you know, I use Linux, Windows, and Apple. For the Windows work, I think Windows 10 will be a great improvement and I'm happy that Microsoft is giving it away as a free update for Microsoft Windows 7 users.
Activism
An area of activism I enjoy is Consumer Advocacy. Last week I was excited to discover a misleading advertising campaign that nobody else had identified yet. It relates to an automatic ink subscription service offered by HP. The marketing materials promise 50% savings on ink. In reality, the cost can be 100% higher than if you purchase your own ink cartridges at the store. I wrote an article about the misleading advertising, and contacted HP about the issue. Their case management team has promised changes to their advertising in response to what I discovered.
Career
This month I expanded my responsibilities at the University of Iowa. In addition to my previous duties, I'm now supporting an entire Division of departments. It's an opportunity to work with more people and create an efficient system of excellent service delivery. You can read the full list of responsibilities on my bio page at the University of Iowa.
Thanks!
Many thanks to all of you who keep in touch and provide support for the work I do. For additional news, you can read this month's ResourcesForLife.com Newsletter.
~ Greg
__________
Origins. For those of you who are new to these monthly personal updates, they began about 15 years ago out of a desire to share from my personal life about topics of lifeways (faith), health, career, finances, relationships, effective living, and activism. This is based on the life map presented on the Resources For Life website.