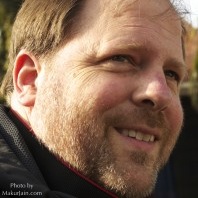 Personal Update 201612 | 03 December 2016 | Saturday
Greetings,
I hope you're doing well. Thanks for taking a moment to read my latest update.
Wellness
Over the past month I've been settling into a good workout program of walking, biking, strength training, and elliptical workouts. I'm using an Apple Watch now to track my workouts which is a great tool since it has GPS mapping for tracking routes, and monitors heart rate to determine the intensity of workouts. Each morning, I lift 7,700 pounds (calculated by totaling reps and sets).
Thanksgiving
Although Thanksgiving was a few days ago, I wanted to share this message I posted to Facebook about gratitude, along with the photo I posted with it.
Thanksgiving is a National Day of Gratitude, yet comes at a time when the skies are gray, the days are short, the weather is cold, the flowers are gone, the fields are dry, and the warmth and light of the sun are hidden. Most of us don't have a big year-end harvest to appreciate. It's easy to give thanks on a bright sunny warm summer day, but what about now? Perhaps it's a good thing that Thanksgiving comes at this time of year. We need to grow our gratitude and give thanks even when the things we're thankful for aren't easy to see 'low hanging fruit' but the fruit of much labor and those things that are hidden from our sight. Most of the 'things' we're thankful for aren't things at all: family, friends, health, education, career, love, forgiveness, a positive outlook on life. I'm grateful to have a day set aside to reflect on all we have to be thankful for. Happy Thanksgiving to you and your loved ones.
Photography Secret
If you've been following my posts on Facebook, then you've seen some of my recent photography. Here's a post I shared a few days ago about my nature photography.
People ask me about my photography – What's my secret… what special camera do I use, what lenses, filters, software, tripods, etc. You might be surprised to learn that the quality and beauty of my nature photography has nothing to do with me or the equipment I use. Most of my photos are taken using a smartphone in auto mode. Sometimes I'll add a lux effect. However, what really makes these photos possible is the following… In Iowa City and the surrounding area communities, there's a commitment to preserving natural habitats, neighborhood parks, green spaces, trails, wetlands, prairies, parks, lakes, reservoirs, streams, rivers and many other spaces for wildlife and people to enjoy. Without a commitment to natural preservation, there's no camera or photographer in the world who could capture these images because they wouldn't exist. Think about that for a moment. Want to contribute to my photography? Donate to an organization that preserves natural habitats.
Writing
This month I shared a little bit about how having a personal blog has influenced my writing style. You might find that article interesting.
Thanks!
Many thanks to all of you who keep in touch and provide support for the work I do.
~ Greg
__________
Want More News? For additional news and updates you can subscribe to the Resources For Life Newsletter by sending an email to resourcesforlifenews-subscribe@yahoogroups.com
Origins. For those of you who are new to these monthly personal updates, they began about 16 years ago out of a desire to share from my personal life about topics of lifeways (faith), health, career, finances, relationships, effective living, and activism. This is based on the life map presented on the Resources For Life website.