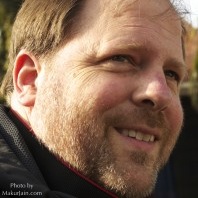 Personal Update 201510 | 18 October 2015 | Sunday
Greetings,
I hope you're doing well. Thanks for taking a moment to read my latest update.
Bevel
Earlier this year I learned about a company called Bevel through their ads on Facebook. I was impressed with their product design, advertising, photography, and also liked the interesting articles on their website. In September I started using their unique shaving system. I wrote an article about Bevel and was surprised to get a nice response from the company CEO minutes after posting the article. [Read Article]
Career
As I mentioned in last month's update, I've been very busy with my work at the University of Iowa — which has required putting in some extra time beyond normal hours to cover some expanded duties and additional responsibilities this semester. My expanded worked included an additional 20 to 30 hours a week of work supporting several departments (for someone who took a job elsewhere). It's been an enjoyable challenge to take on an additional workload because it gives me an opportunity to figure out more efficient ways to do things. After 8-weeks into the Fall semester, the work load has tapered off and I've been able to have some evenings and weekends again — which is good since we don't get paid for overtime work.
Email Efficiency
Like everyone, I receive hundreds of emails every week, and it doesn't take long for thousands of emails to pile up in the inbox. Over the past two months I've been trying to keep my inbox empty by responding to every email. Some requests that come by email may take more than one day to accomplish. For such requests, I have a task list to prioritize various requests that come in by email, phone, Facebook, and other means. The system has helped me keep my inbox empty (a great feeling) and prioritize my day-to-day work.
Technology
As a consultant and small business owner, I've had to take care of all aspects of the business, and the wide variety of requests that come in. I like this diversity. My work at the University of Iowa also involves various areas of responsibility. In a larger institution or enterprise, usually there are separate positions for these roles because for most people it can be challenging to attend important meetings, keep up with administrative paperwork, respond to urgent support requests, and keep up with the repair or setup of computers. This month I wrote an article about the four quadrants of technology service and support and how larger organizations provide technology services and support. [Read Article]
Remembering Paul
In August, my stepdad Paul in Maryland passed away. There was a celebration of life event for him this month, but I was unable to attend. So, I shared some memories about Paul in a writing that could be read at the event.  [Read]
Thanks!
Many thanks to all of you who keep in touch and provide support for the work I do.
~ Greg
__________
Want More News? For additional news and updates you can subscribe to the Resources For Life Newsletter by sending an email to resourcesforlifenews-subscribe@yahoogroups.com
Origins. For those of you who are new to these monthly personal updates, they began about 15 years ago out of a desire to share from my personal life about topics of lifeways (faith), health, career, finances, relationships, effective living, and activism. This is based on the life map presented on the Resources For Life website.