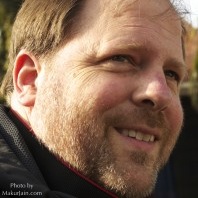 Personal Update 201506 | 30 June 2015 | Tuesday
Greetings,
I hope you're doing well. Thanks for taking a moment to read my latest update.
Health
We all have general wellness goals like "I'm going to ride my bike more" or "I'm going to eat more raw fruits and veggies." Yet, making those goals happen takes some specific tools and steps.  So, this month I've been working on some of the 'nuts and bolts' of my wellness program.
MegaFitness Program. From about 1995 to 2005, I'd started developing something I call the MegaFitness Program. This month I went back to review some of my early writings about the program and return to following some of the principles I'd not been following recently. At the core of the MegaFitness program are an inventory of superfoods and nutritional supplements with powerful essential nutrients. The MegaFitness Program became a core foundational component of the Universal Wellness Program that's been my focus in recent years.  My hope is to continue developing the program and applying it to measure its beneficial results and outcomes.
Blender Juicer. Last week I purchased a Nutri Ninja blender juicer and I've begun to create some juice recipes specifically for that type of blender. My previous juice recipes were for a masticating cold press juicer. Extractor juicers blend the entire fruit and vegetable ingredients so no pulp is left over. By adding ice, the enzymes are kept from exposure to extreme heat. My latest juice recipe is a strawberry apple carrot protein drink that combines everything I've learned up to this point about making superfood drinks. The drinks I make are inspired by a breakfast drink my dad created back in the 1970s that was a modified version of the 1954 Adelle Davis pep-up recipe.
Bicycle Trailer. In May I started riding my bicycle more and saw some great results in my overall wellness. However, on rainy days I'd been taking the bus or driving. So, this month, I purchased a bicycle cart to protect my gear and backpack from inclement weather. Now I'll be able to ride the bike when it's raining or when I need to haul something. If you're interested in getting a bicycle trailer, let me know. I can show you the cart I have as well as a full line of bicycle carts that I offer with fast free shipping. 
Politics
Last month I had a chance to make a video of Bernie Sanders. Since then, the video has maintained a top position. It's now on page 3 (in the top 30 out of 160,000 results) on YouTube for anyone searching for Bernie Sanders videos. It's had as many views as some of the top ten videos produced by ABC News, PBS News Hour, and MSNBC. So, that's exciting.
Last month I updated the Political Resource Group web page and the companion civics website AGovernmentOfThePeople.com, which continues to grow.
Thanks!
Many thanks to all of you who keep in touch and provide support for the work I do. For additional news, you can read this month's ResourcesForLife.com Newsletter.
~ Greg
__________
Origins. For those of you who are new to these monthly personal updates, they began about 15 years ago out of a desire to share from my personal life about topics of lifeways (faith), health, career, finances, relationships, effective living, and activism. This is based on the life map presented on the Resources For Life website.